Personalized Embroidery for Club Glove Travel Luggage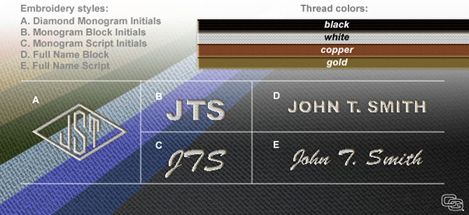 Personalized Embroidery for Club Glove Travel Luggage
Personalized Embroidery on Travel Luggage

Available only when ordering Last Bag Collegiate, Last Bag Large Pro, or Last Bag XL Pro Tour luggage pieces.  Please note that this personalized embroidery requires additional lead-times.  If ordering embroidery on more than 1 luggage piece at a time, please add additional details in the comments section.  Choose from 1 of 5 standard personalization options (shown in images):
A: DIAMOND MONOGRAM INITIALS - Please note the standard placement of the letters is FIRST INITIAL, then LAST INITIAL, then MIDDLE INITIAL (with the last initial being the most prominent, and the first & middle initials flanking it).  See image for standard order of diamond monogram initials, versus the plain monogram styles.  If selecting this option, please state your 3 initials in the order you want them embroidered on the luggage.
B: MONOGRAM BLOCK INITIALS - Standard placement is FIRST INITIAL / MIDDLE INITIAL / LAST INITIAL
C: MONOGRAM SCRIPT INITIALS - Standard placement is FIRST INITIAL / MIDDLE INITIAL / LAST INITIAL
D: BLOCK TEXT - Whatever text you want embroidered for your name, in BLOCK style.  Most common text options are: full first name & full last name, first initial only with full last name, only full last name (no first name).   
E: SCRIPT TEXT - The same as option "D", except SCRIPT text instead of block.
Please note - when specifying text, take care to ensure you type the text in the exact format you want it embroidered in - providing spaces, any punctuation required (hyphens or periods if/where you want them), and also any letters you want in uppercase if choosing script style E.  Text will be copied exactly as submitted for embroidery production.
Reviews