Rolling Duffle III XL - "Dog Bone Series"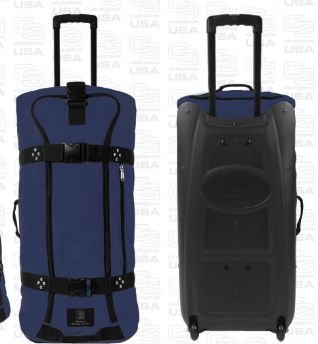 Rolling Duffle III XL - "Dog Bone Series"
Rolling Duffle III XL
largest allowable airline check-in bag
Premium large travel bag (10 lbs) accommodates enough clothing for 2 or more weeks travel time. Maximum allowable check-in sized luggage for nearly all travel airlines. Lightweight and strong, glides effortlessly through airports and train stations, even when fully packed, for stress-free travel. 
New
 dog bone shaped zipper helps maximize packing efficiency. Includes set of large and medium clothing organizers. Made in USA. Limited lifetime warranty.
FEATURES:
32.5" H x 16.5" W x 13.25" D · 62.25 linear inches · 10 lbs
Snap ID card holder
Telescoping, adjustable and retractable handle. Now features recessed storage for added protection.
Patented high-impact plastic wheelbase with integrated support and in-line skate wheels and bearings for easy transport. New design allows for maximum packing space and added support. (see our patents)
Dog bone shaped zipper for maximum packing and loading.
Train Reaction System now features a zippered storage pocket for convenient access and protected stowing of integrated straps when not in use.
Patented integrated carry handle integrates with Train Reaction™ (see our patents)
Single piece burst proof construction made with Invista™ Cordura® 1000 D water resistant nylon up to 3x stronger and lasts up to 5x longer than standard polyester
Reliable and durable YKK® zippers and ITW Nexus® Buckles
1 exterior side storage pocket
Collapses and stores flat for easy storage when not in use
Photos of every available colour not shown here.  See clubglove.com for additional pictures of all available products
.  (The identical products are available in the 
Canadian marketplace.)  Please note that some colour options 
seen on clubglove.com (if not listed as a drop-down option in the "Colour" choice above) 
may be special-
order 
& may take additional time to receive in Canada and/or 
additional shipping charges, 
depending on 
the 
specific request
.  
Please contact us at 
orders
@
teetogreen
.
ca
 for any additional 
details. 
Reviews